The Family Table
"Cooking from scratch is the single most important thing we could do as a family to improve our health and general well-being."
– Michael Pollan
In my family, most days we wake up and hit the ground running, the four of us off in different directions. Two of the most important rituals in my house are breakfast and at dinner. These meals hold a space for the nourishment and love we need and crave to start and end each day.
The morning meal is all about the warmth and fuel needed to transition into the activities ahead. Sometimes there are many hours between leaving the house and returning home. The comfort of being home and the ritual of slowing down and coming together for a meal we can enjoy and feel good about is something we look forward to each day. Taking the time to make simple, wholesome meals is a gift I give to my family as much as it is part of my own self-care. These days, it is actually rare for all four of us to be home but there is still almost always a simple, healthy meal on the family table in the morning and in the evening.
Celebrations and extending the family table to our extended family and friends is another value we live and love in our home. The warmth and connection inspired by coming together over food cooked at home is something I want to share over and over.
I am inspired by how in the fast paced world we are living in, there is a growing movement towards valuing food with integrity and the art of the family table. I have seen and benefitted from this practice during my lifetime and want to support this movement by promoting healthful, home cooked meals. I believe in the power of coming together and in the care and nurturing of ourselves and our families for generations to come.
From my table to yours!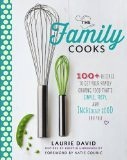 Laurie David and Katie Couric are behind a new documentary coming out about the importance of cooking meals in families. If you are interested you can see the trailer here:
These women have also teamed up with Kristin Uhrenholdt and authored a book called The Family Cooks.
On the table tonight…
Find Family Table Recipes and Ideas here.